Send flowers to Omsk
Send flowers to Omsk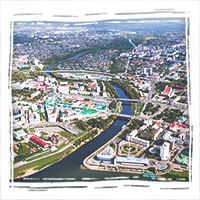 You have decided to order flowers or a gift? Then you have come to the right place. On our site you will find a decent selection of beautiful bouquets, baskets and gorgeous wonders-governmental gifts. Are you looking for an opportunity to give a loved one a piece of its heat? Send flowers to Omsk from our internet - store will do its best to ensure that positive emotions quickly find your recipient.
Select those flowers that will please your lover or beloved and make the finished bouquet. If you want to make your gift more original, our managers will be able to choose the best for your bouquet, and experienced florists will gather him on the latest floral trends. You would think that the bouquet will be enough? Sign the card, select a gift, and our couriers will deliver your congratulations to the addressee in his hands. Send flowers to Omsk—the best way to give a man who is so dear to you, my tenderness.
Flowers and bouquets from the salon"Grand Flora"
Order free shipping bouquet in any area of ​​the city Omsk.

We deliver to order fresh flowers, gifts and

bouquets with 50% discount.

We run all day delivery of flowers sent to Omsk and

in another city in Russia

at any time of the day or night

.

The client can get a bunch already 3 hours after the order through the Internet.

You can pay in cash to the courier, make transfer from the monetary system, and make a payment by credit card or electronic money.

Send flowers to Omsk cheap
Shipping cost in the cabin"Grand Flora"costs as low as 300 rubles, if you make order out of Omsk Order the beautiful and festive colors -.. roses, Peonies, tulips, gerbera, Lilies, orchid, chrysanthemum, Chamomile, lily. Our florists make bouquets and flower arrangements in the form of hearts for the design wedding or at birthday. Present favorite woman flowers Balloons or stuffed toy of gift basket.
Where to buy flowers in Omsk?
delivery service of flowers and gifts«Grand Flora»
Address:

g. Omsk, st . Dekabristov 45

Working hours:

 from 8 to 21 hours
additional contacts
Phone:

8 (800) 333 01 95

Vayber:

+7 (968) 278 01 91

Mail:

omsk@grand-flora.ru
Order flowers with delivery to Omsk
Flower shop"Grand Flora"take a bunch courier to any location in the Omsk region! Call Now Tel8 (800) 333 01 95 and our consultant will discuss with you the conditions of delivery and payment.
Delivery to any city in Russia
Start typing the name of the city, and we'll show you
International Flower Delivery
We did not find the required location                     
Call us at
8 (800) 333-01-95
 and we will help you.
Our best stocks